Recently VOX Magazine, published by students at the J School of the University of Missouri devoted an entire issue to "Missouri Under the Gun":
"Caught between politics and the E.R."
by RENEE HICKMAN, April 27, 2017 – VOX Magazine, University of Missouri
In 2014, about four years after she started practicing medicine, Dr. Pam Choi, chief surgery resident at St. Louis Children's Hospital, was working an overnight shift when her pager buzzed. A tiny patient was headed to the emergency room. "When you see that page come across — '13-month old baby, GSW (gunshot wound)' — your blood just runs cold and you're like, 'Oh my God; what should I expect?'" she says.
Before coming to St. Louis, Choi thinks she saw only one patient who'd been shot — a man who came into the ER while she was on a surgery rotation as a medical student at the University of Rochester. She grew up in the Northern New Jersey suburb of Franklin Lakes, one of the safest towns in the state. Her family never owned a gun, and gun violence was neither part of her personal experience nor an issue she thought about much.
Choi arrived at St. Louis Children's Hospital for her residency and witnessed with horror the regularity with which children were brought into in the emergency room with firearm injuries. The incidents began to blur together in her memory. She cannot remember her first child gunshot victim, but she remembers the 13-month-old boy.
Choi and her team raced to the trauma bay and waited for the ambulance to arrive. She found herself standing very still as she focused on how she would deal with all the possible scenarios. Would there be cardiac injuries? How much blood loss would there be? Was the ambulance taking a long time, or did it just feel that way? She and her colleagues exchanged only a few words. Did they have all the supplies they needed? Were they ready? The younger the patients, the less likely they are to survive traumatic injuries.
The boy arrived in the ambulance with his mother. As paramedics wheeled him into the emergency room, Choi pulled the mother aside into a quiet conference room and explained where they were taking her son. As she explained that surgeons would operate on the baby, the sobbing mother begged them to do whatever they could. Choi promised that they would, but experience had taught her that even in the best of circumstances, doctors never quite know what will happen after a patient enters the ER.
The boy was crying loudly when the paramedics rushed him in. He'd been shot once, but the single bullet in his small body had done enough damage to threaten his life. As Choi and her team worked, he got weaker, and his cries grew softer. He struggled to breathe. The doctors worked for several hours to stabilize him and complete the operation. Finally, it became clear that he would live.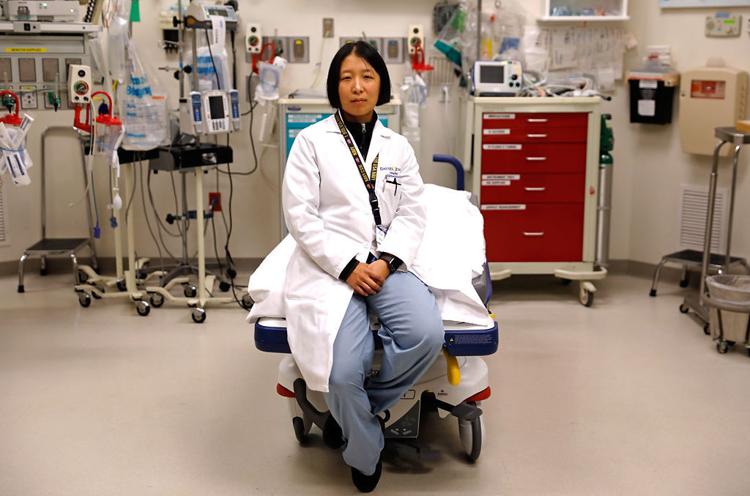 Despite the victory of the boy's survival, Choi continues to be disturbed by that night. "They bring in this baby, and he's bawling, and he's chubby," she says. As his recovery dragged on, she could only think that he didn't belong there. He should be like any other 1-year-old, happily learning and exploring his world.
The longer she worked, the more frustrated Choi became watching one child gunshot victim after another appear on her operating table. On average, between April 2008 and March 2013, there were six firearm injuries per month in children under 16 in St. Louis.
It was easier to think of the problem the way she'd been trained to, in terms of epidemics — the way one might ponder an outbreak of polio, the flu or the spread of HIV. If children were being hurt and killed by something in the world, causes could be researched and solutions implemented.
St. Louis Children's Hospital has one of two Level I trauma centers equipped to treat pediatric gunshot injuries in the St. Louis metro area. During intake, social workers interview patients and their families to determine the circumstances surrounding their injuries. Choi recognized that her facility was uniquely positioned to gather data on gunshot wounds and homicides of children in the region and the factors that led to them.
She and the other co-authors of the study "Firearm injuries in the pediatric population: A tale of one city" looked at the children who arrived at St. Louis Children's Hospital and Cardinal Glennon Children's Hospital, the other pediatric Level I trauma unit in the area, over a period of five years from 2008 to 2013. During that period, they documented 398 gunshot injuries in children — one of the highest rates in the nation. For comparison, a similar study done in Colorado over nine years recorded 129 gunshot injuries in children. A study over 10 years in Detroit recorded 289. The children were shot in the city and in the suburbs, as bystanders to crime and in accidents. Slightly fewer than half were in their own homes.
The high rates of gun violence in St. Louis have led to numerous intervention attempts by agencies, private organizations and law enforcement. Programs for at-risk youth have been launched, community forums are held regularly, and in 2014, St. Louis County established a curfew from midnight to 5 a.m. for minors under 17.
Still, the issue has persisted. In fact, Choi noticed that during the period she studied, before the curfew laws were in place, most gun injuries actually happened outside curfew hours, between 6 p.m. and midnight.
A significant change in gun violence rates did occur recently. After 2007, the year Missouri legislators repealed a law requiring gun owners to obtain a license proving they'd passed a background check, firearm homicide rates spiked. Afterward, the rates continued to rise, jumping 23 percent through 2010, according to the Johns Hopkins Center for Gun Policy Research.
When asked how she thinks the new "permitless carry" and "stand your ground" legislation will affect the situation in her emergency room, Choi is less than optimistic. "I don't think it will help," she says.
Many doctors in St. Louis echo the American Medical Association and the American College of Physicians in saying they want to approach gun violence affecting both children and adults as a public health issue, disentangling research and preventative measures from the partisan politics of gun legislation.
Dr. William Powderly is the director of the Institute for Public Health at Washington University in St. Louis, which launched the Gun Violence Initiative in 2015 to explore the issue in the city. To illustrate their approach, Powderly uses road safety as an analogy. Early on, U.S. drivers had to follow few rules. They could drive with a drink and without a seatbelt, to deadly ends.
"We had carnage on the roads, and this was clearly recognized as a public health issue," Powderly says. "And over the next 30, 40 years, we gradually made driving a much safer enterprise in the United States."
But in Missouri (and in the U.S.), guns are not like cars. Politics have so thoroughly saturated any discussion about gun safety that some doctors change their word choice to make gun owners more receptive to their ideas.
Dr. Robert Kennedy, a pediatrician who, like Choi, works in the emergency room at St. Louis Children's Hospital, would rather not use the term "gun control," for instance. "When you use that language a lot of people tune you out," he says.
Kennedy has been in the field for about 40 years. Sitting in his house in St. Louis, he clicks through slides of data on gunshot injuries to children in St. Louis on his computer — locations, ages, intentional or unintentional — and recounts one tragic story after another. There was the child who thought a family handgun was a squirt-gun, the 12-year-old who didn't mean to shoot his friend after finding a gun in his grandfather's bedroom, the father who accidentally shot his infant son while in the car. On and on and on.
In 2013, not long after the Sandy Hook Elementary School shooting, Kennedy wrote an op-ed for the St. Louis Post-Dispatch with fellow St. Louis Children's Hospital physicians David Jaffe and Martin Keller. In it, they called gun violence in St. Louis a public health crisis. The doctors implored readers to support recommendations by a host of medical professional organizations that wanted to ban assault weapons and large ammunition magazines and end federal restrictions on funding research into gun violence.
But today, Kennedy has stopped looking to legislative solutions to help halt the flow of gunshot victims into his emergency room. "I don't think there is any way to get any legislation passed right now with the mentality that we have," he says.
He prefers simple measures doctors might take, such as asking more questions while documenting patient medical histories. Queries about gun ownership and storage would appear alongside questions such as, "How many alcoholic drinks do you have per week?"
But in some cases, those questions have been politicized. In 2011, a Florida law backed by the National Rifle Association barred doctors from asking patients whether they kept guns in their homes. The 11th Circuit Court of Appeals recently struck down the law, saying it violated doctors' rights to free speech. Missouri doctors are currently allowed to ask about firearm ownership and safety, but no law can require them to ask about guns in the home or document gun ownership as part of a patient's history.
If doctors and public health experts are seeking treatments to what they view as an epidemic, Mary Hennings could be considered a survivor of the disease. Hennings is recovering from her fourth surgery following her 2013 gunshot injury.
On a warm evening in March, she moves with difficulty around her daughter's home in Jennings, a St. Louis suburb. She looks for the right place to sit so as not to irritate her left hip, which was recently replaced. She points to the spots where the bullet entered her leg and then traveled upward. A long, deep scar marks its path.
Hennings was standing in front of her son Michael's house when she was shot. She was about to head into the city with a few family members and friends. But then Michael had to use the bathroom, someone else forgot their phone charger and the trip was delayed. Hurrying to make her appointment, Hennings went to get the charger.
Before she could open the door, she fell to the ground, confused, and tried to move but couldn't. As the pain spread through her leg, she heard more rounds being fired and understood what was happening. She prayed for the shooter to run out of bullets and for the pain to stop. To this day, the case is unsolved.
Hennings' godson, Anthony, ran to her on the porch. He is so much a part of her family that he calls her "Mama." As she bled onto the steps, he ripped off his shirt. "Mama, this is gonna hurt," he told her as he used the shirt to create a tourniquet. Later, a doctor told Hennings his action had probably saved her life.
This was not the first time Hennings had experienced gun violence. Her son Alvin was shot and killed in 1989 in the St. Louis area. Five months after Hennings was shot, her son Michael was also killed with a firearm.
Michael Hennings' daughter sits at the kitchen table. She is focused intensely on her homework, while Mary Hennings points to scrapbooked pictures of Michael. The pictures show a handsome man in his 30s who smiles easily back at the camera. Hennings likes to remember doing work around the house with Michael, fighting over who would cut the grass. Shortly before he died, he told Hennings he was going to barber school, so he could cut hair for a living like his mother. "Michael was a good guy," Hennings says gazing at the photos. At times, she closes her eyes against the tears.
Hennings hopes the hip replacement will be her last surgery. Her daughter, Kimberly, takes care of her daily needs but is overbooked with two jobs, one in health care and another at the hair salon she owns.
She is impatient to be able to move around more easily. She wants to spend more time with local advocacy groups working to stop gun violence in St. Louis and wants to start working as a barber again.
Hennings says there are too many guns in her neighborhood, and she thinks Missouri's new "permitless carry" law will worsen the problem. Guns are "getting in the wrong hands," she says. But she is torn on the issue. Hennings owns a gun herself. She wonders if, had she been able to reach the weapon, she might've been able to stop the man who shot her.
http://www.voxmagazine.com/magazine/caught-between-politics-and-the-e-r/article_2792dc97-73f3-59f6-8639-c5a11b99a6ad.html